In October, more than 2,600 people gathered in Washington, D.C. for the annual Heart Failure Society of American (HFSA) Annual Meeting – three days packed with interactive education, discussions with experts and presentations on the latest innovations in heart failure therapies. The energy and excitement were palpable throughout the conference as clinicians, scientists and patients reconnected in person (some for the first time in more than two years!).
Nuwellis was proud to partner with HFSA again this year as a bronze sponsor. During the conference, we highlighted four major initiatives focused on the scientific data behind the Aquadex SmartFlow® system with the support of a multidisciplinary team of thought leaders in cardiology, heart failure, and nephrology.
AVOID-HF Win Ratio Analysis
During the conference, co-authors Drs. Sean Pinney, Maria DeVita, and Maria Rosa Costanzo presented compelling evidence from the AVOID-HF Win Ratio Analysis, which evaluated the data obtained from the 221 patients enrolled in the AVOID-HF (Aquapheresis Versus Intravenous Diuretics and Hospitalization for Heart Failure) study using the Finkelstein-Schoenfeld method of hierarchical Win Ratios (WR).
"The re-evaluation of AVOID-HF, using the Win-Ratio calculation, shows that adjustable ultrafiltration is safe and more effective than adjustable IV diuretics in reducing heart failure events for hospitalized heart failure patients," Dr. DeVita explained. "The results favored ultrafiltration over diuretics in reducing heart failure events within 30 days and cardiovascular mortality within 90 days."
Results from this analysis are aligned with multiple systematic reviews that have demonstrated adjustable ultrafiltration to be more effective than diuretics in fluid removal, weight loss, and reducing hospital readmissions.1-2
REVERSE-HF Study Protocol
The AVOID-HF Win Ratio Analysis provides additional evidence and great confidence in the design and enrollment of Nuwellis' ongoing REVERSE-HF (Ultrafiltration Versus IV Diuretics in Worsening Heart Failure) study, a multicenter, open-label, randomized controlled trial currently in progress, which was also highlighted at HFSA.
The primary effectiveness endpoint of REVERSE-HF will evaluate mortality and heart failure events within 30 days and 90 days as a comparison between adjustable Aquadex therapy and adjustable IV loop diuretics. The study will assess safety parameters, including, but not limited to, cardiovascular and renal-related adverse events of special interest.
After many discussions with medical societies, Nuwellis has confidence that REVERSE-HF will produce compelling evidence that these societies will need to garner a stronger class of recommendation and higher level of evidence for ultrafiltration within the medical guidelines.
Reimbursement
One clear takeaway from HFSA was that the disease burden of heart failure is increasing, with 6.2 million adults in the United States living with the condition.3 When considered in tandem with the increasing economic burden of heart failure hospitalization, penalties for readmissions, and patient quality of life outcomes, it becomes clear there is a unique opportunity for Aquadex to help solve these challenges.
Under the current standard of care, patients often have long hospital stays – and hospitals are typically only partially reimbursed for the cost of care. Furthermore, hospitals receive no reimbursement for patients that are readmitted within 30 days of initial discharge.
According to Premier Applied Sciences data, the average total unreimbursed cost per inpatient encounter is $24,027, which highlights the importance of reducing unscheduled 30-day readmissions. Earlier this year, ultrafiltration was issued reimbursement code 0692T, which allows for reimbursement in both the inpatient and outpatient settings. Throughout HFSA, Nuwellis engaged in discussions with hospital system reimbursement leaders about the role that Aquadex can play in lowering the cost of heart failure by reducing hospital readmissions.
Outpatient Care
Outpatient care offers a unique opportunity for hospital systems to break the cycle of heart failure readmissions, reduce the associated financial burden to healthcare systems, and improve patient quality of life. At HFSA, providers were eager to discuss the clinical and economic challenges associated with the current standards of care for managing fluid overload among heart failure patients.
Experts using Aquadex discussed strategies for treating these patients in the outpatient setting and shared their experiences with outpatient Aquadex therapy patient selection, logistics, goals of care, and economic benefit. While reimbursement for ultrafiltration varies from state to state, experts shared that reimbursement for the administration of Aquadex in the outpatient setting has been favorable for their hospitals. These experts included Dr. Detlef Wencker, MD, Baylor Scott & White; Chris Bell, ACNP, Cardiology Associates of North Mississippi; Pavel Buzadzhi, APRN-CNP, Oklahoma Heart Institute; Dr. Beth Davidson, ACNP, Centennial Heart Cardiovascular Consultants.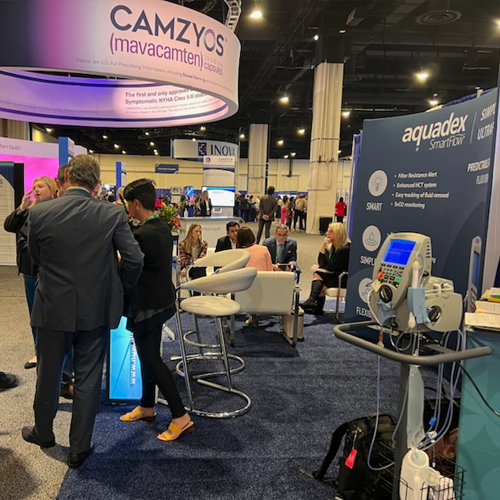 Moving Forward
After several years of virtual and hybrid conferences, the Nuwellis team was energized by the face-to-face connections made at HFSA this year. The growing body of data supporting Aquadex is encouraging, and we look forward to sharing additional updates on new data, reimbursement and outpatient care efforts in the coming months.
[1] Wang, M.J., et al. Medicine (Baltimore), 2021. 1. 100(50): p. e28029.
[2] Jain, A., et al. Heart Fail Rev, 2016. 21(5): p. 611-9.
[3] Virani SS, Alonso A, Benjamin EJ, Bittencourt MS, Callaway CW, Carson AP, et al. Heart disease and stroke statistics—2020 update: a report from the American Heart Association. Circulation. 2020;141(9):e139-596.
Document number 22-2305-A