Aquadex Around the World:
International Trade Expands Access
By Laura Serrano / January 27, 2022
The average time a person stays in a hospital is often regarded as an indicator of efficiency in health service delivery.[1] If everything else in the equation is equal, a shorter stay will cost less and help shift patient care from inpatient to less expensive outpatient settings.
However, we know that not everything in the equation is equal.
Research has shown there is an increased risk of death in the first month after hospitalization for heart failure, an increase that is clearly related to the number of previous admissions.[2] This has been dubbed by many as heart failure "frequent flyers" – one of the driving forces behind the work in the U.S. to keep readmission rates down.
But, is the answer to just keeping patients in the hospital longer the first time?
The answer is complicated because prolonged hospital stays come with their own set of risks, including an increased risk of hospital-acquired infections in older patients, and limited access to care due to bed shortages.
"In the U.S., it's common to see patients who are pushed out of the hospital after a few days only to return with the same issues within a few weeks, whereas patients in other countries may stay in the hospital for weeks on end until a solution is identified," said Laurent Duhoux, Vice President of International Business Development.
We know each patient and situation is unique, which is why we believe so strongly that each care plan should be personalized. Our mission is to transform the lives of patients suffering from fluid overload, and we're constantly striving to meet that mission by expanding access to our lifesaving Aquadex therapy – and that means access beyond U.S. borders.
"Our goal, is with more access to ultrafiltration, more patients can be treated quickly and effectively, reducing the burden on patients and health systems around the world," said Laurent Duhoux.
And our work is being recognized.
Last fall, Nuwellis was one of five Minnesota companies to receive the Governor's International Trade Award, an award that honors Minnesota companies that are developing and continuing to grow a significant part of their business in foreign markets, increasing or maintaining jobs in Minnesota, and developing novel approaches for competing globally.
"This award was an important recognition for our efforts in international trade," said Duhoux. "We're working hard to help people around the world gain access to our technology."
Nuwellis currently conducts business in the United States and Europe, Middle-East, Brazil and South East Asia, most recently expanding to Austria, Israel and the United Arab Emirates. Our distribution agreements now cover 18 countries outside the United States.
In September 2021, Nuwellis received CE Mark certification for our 24-Hour Blood Circuit Set to market the circuit in the European Union and other countries that recognize the certification, further expanding access to our proprietary ultrafiltration therapy.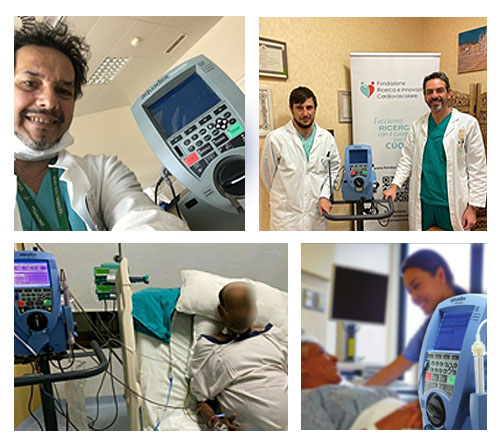 As Nuwellis expands its business, healthcare providers around the world have expressed excitement about offering their patients an alternative to traditional diuretics.
"When we start business in a new country, I'm often there when the first patient is treated with Aquadex," said Duhoux.
"Working with doctors and nurses to not only help them realize the benefits of our therapy but also improving their patients' lives and watching those transformations firsthand, is incredibly rewarding."
[1] OECD (2020), Realising the Potential of Primary Health Care, OECD Health Policy Studies, OECD Publishing, Paris,  https://doi.org/10.1787/a92adee4-en.
[2] Clin. Cardiol. 32, 2, 67–68 (2009), Roger M. Mills et al.: The Heart Failure Frequent Flyer: An Urban Legend Published online in Wiley InterScience. (www.interscience.wiley.com) DOI:10.1002/clc.20404  2009 Wiley Periodicals, Inc.